Alright, let's just get right down to business today. However, I would like to say that the last three images are just bad screenshots that I took watching the live broadcast on the internet. When other pictures present themselves, I'll throw them in.
So, Stage 4 kicked off yesterday ranging from San Jose to Modesto. The stage totaled around 196km. Not having watched it that closely, I can't particularly comment on the stage itself, but according to AMGEN's site, RaboBank was really fighting for the win in Modesto. Boom was aggressive, but got reabsorbed into the peloton, and then two other team members tried desperately to take the win. Ultimately, team LiquiGas blew RaboBank out of the water with a phenomenal sprint and win by Francesco Chicchi.
(I wonder how Contador feels about the use of these hand gestures. Tisk tisk)


I got home from school today to find out that Stage 5 hadn't actually ended yet. So, I hopped on my computer and immediately started watching the live feed from AMGEN's site. They did a pretty good job with it, to say the least. Today's stage went from Visalia to Bakersfield for, again, a total of around 196 kilometers.
Anyway, I also saw an email from my Mom saying that Lance had abandoned the tour. Apparently Lance crashed very early in the stage this morning, while the peloton was still in Visalia. He got stitches on his left elbow and under his left eye.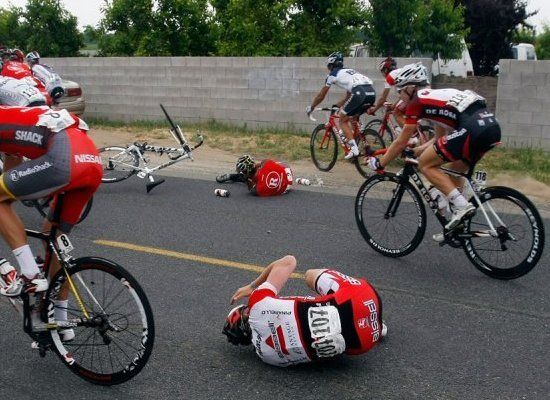 (Ouch)


The stage ended today with a breakaway of four men rejoining the peloton. The last man standing in the breakaway was Ben Day, but he pooped at the base of the last gradient. Eventually, the peloton reached the finish and Sagan beat Rogers in a sprint, followed by Dave Zabriskie who sheltered in his team's slipstream (get it?) until he also sprinted toward the finish.


On my front, I'm looking forward to stitches out tomorrow and a challenging group ride on Sunday. Keep the rubber side down, AYC patron.
Photo credits go to Ken Conley and the Huffington Post.